Siding Contractors | Vancouver, WA
Assured Exteriors is a reputable, local business that specializes in siding repair, siding installation, and siding leak repair in Vancouver, WA. Our friendly team of siding experts is ready to get the job done. By upgrading your siding to one of our high-quality siding installation options you can significantly boost your home's curb appeal, property value, and weather resistance. Our siding replacement types include cedar siding, vinyl siding, fiber cement siding, and stone/brick veneer siding.

Best Siding and Roofing Company in the Business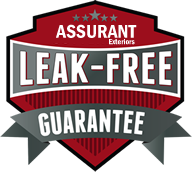 We have been in the business of siding for almost 20 years. This amount of experience helps set us, as siding contractors, apart from our competitors. In addition to our experience, we are recognized and loved by our customers for our honesty, hard work, and skill. We offer only the best siding materials and give you the options to select what looks best for your home.
In addition, we also offer roof repair and roof replacement to ensure that your home stays safe and dry through any weather. Our roof installation options include asphalt shingle roofing and composite roofing, guaranteed to stay durable and sturdy year-round.
Quality Work for Your Vancouver, WA Home
With the constant rainfall that hits Vancouver on a regular basis, it is important to make sure your home's siding does not leak. Here at Assured Exteriors, we don't mess around – we do a job right the first time. We also take pride in our work, and back it up by offering a leak-free guarantee. Yes, that's right. We guarantee a leak-free home for life.
We also understand that aesthetic appeal is just as important as weatherproofing, and that's why we offer high-quality home improvement options such as window replacement, door replacement, and deck resurfacing.
Vancouver, Washington is one of the many cities that we service. Give us a call or contact us online for a free estimate and get started on your siding replacement or home improvement project today!